Shropshire councillors join protest against pylons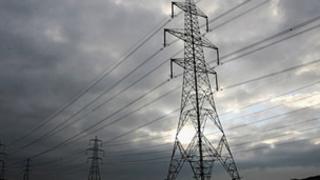 Protesters have been joined by Shropshire Council to oppose possible plans for new electricity pylons.
The National Grid (NG) is consulting communities on suggested routes for the power lines, which would carry electricity from Mid Wales wind farms.
No decisions have been made about whether pylons or underground cables should be used.
The initial consultation period ends next week and formal planning applications are expected next year.
Karen Farrow, of action group Montford Against Pylons, who attended a council cabinet meeting on the issue, said she received a positive response from councillors.
"Their recommendations to the National Grid are focussing on the fact that the pylons would have a significant detrimental effect on all parts of Shropshire," she said.
"It would affect tourists, it would affect the economy, it would affect residences and businesses and therefore they're proposing that the pylons go underground."
Ms Farrow said there was strong opposition in the county.
"There has been an army of people across Shropshire who have been campaigning against these proposals."
Councillor Keith Barrow, Conservative leader, voiced concerns over the NG's consultation leaflets.
"I think the fact that the leaflets that went out didn't specify Shropshire, it said 'Mid Wales Power', and it didn't mean a lot to people," he said.
"You've got to get a very clear message through in the first 15 seconds and I don't thing that leaflet did."
In a statement, NG said Mid Wales had been identified as an important location for a number of new wind farms and a new substation.
"At present there is no existing electricity network in the area capable of carrying the large amount of power these wind farms will generate," it said.
"No decisions have yet been made about the location of the substation or the route of the connection and we are keen to hear the views of local people as these will help us shape the project."
Completed feedback forms should be returned to National Grid before the end of the consultation period on 20 June.