Shropshire students to the rescue after lightning drama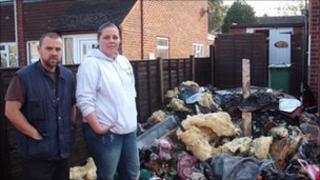 A Shrewsbury family left homeless after a lightning strike and fire can now move into their newly decorated house.
Students from Shrewsbury College volunteered to help Scott and Keelie Caudwell repair water damage caused when the fire was put out.
The couple, who escaped unhurt with their two children, discovered that they were not covered by insurance.
They managed to get the roof replaced, but the inside of the house was badly damaged.
Mr and Mrs Caudwell and their children, eight-year-old Katie and Ben who is six, were asleep at their home in Mayfield Grove, Bayston Hill, last month when lightning struck during violent electrical storms.
Mrs Caudwell said she had been overwhelmed by the water damage.
"It went through the dining room, down the walls and the damage when I came in at 4.30 in the morning was horrendous. There was black everywhere," she said.
She praised the students' work saying: "They have been a lifeline to us, they really have."
Great experience
The 12 students are all in their first year of a painting and decorating diploma at the college.
One of them, Nathan Davies, said they had been glad to help the family and add to their own knowledge as well.
"It's really important because we don't really get this kind of work at college. We just do little jobs. In this one we were all doing it together," he said.
The students' tutor, Richard Tart, said they had really enjoyed their five days at the site.
"It's great to have the hands-on experience. At the college they are getting a lot of experience, but not as they have here," he said.