The Shropshire Olympian Festival recreates 1864 event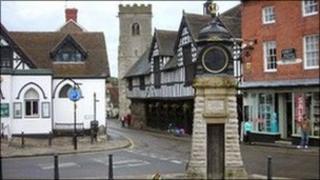 More than 1,500 children have been at the launch of The Shropshire Olympian Festival, which is recreating the 1864 event.
The Much Wenlock Games was founded in 1850, with the Shropshire town being widely considered to be the birthplace of the modern Olympics.
In 1864 William Penny Brookes brought the Shropshire Olympian Festival to Shrewsbury from its Much Wenlock home.
The three-day festival started at the Quarry in Shrewsbury on Friday.
'Fine art entertainment'
Children from 40 Shropshire primary schools were involved.
The opening ceremony was being followed by a mass synchronized Victorian PE drill for all participants.
Youngsters were taking part in a range of athletic and other sporting events, as well as other competitions including dance, poetry and singing.
The original games were for "literary and fine art entertainment and for skill and strength in athletic exercise" and this was "precisely the ethos and the spirit of the Olympics that will be re-created", Shropshire Council said.
The Shropshire Olympian Festival is free to everyone, with Heritage Lottery Fund and Arts Council England support.
The council was also working in partnership with Shrewsbury Town Council, Shrewsbury Carnival and BBC Radio Shropshire to deliver the event.
The Much Wenlock Games came to the notice of Pierre de Coubertin, who saw it as a model to revive what has become the modern Olympics.
One of the Olympic mascots has been named Wenlock in recognition of the town's historical link to the modern games.