Thomas Adams School pupils to help build Kenya school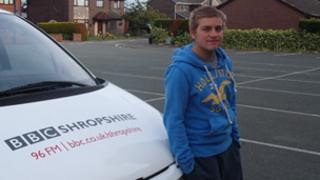 Sixth-form students from Thomas Adams School in Wem are going to Africa to visit the slum areas of Nairobi to help build a school.
The school has had close links with Kenya for some years and groups have been visiting the country regularly.
A group of 17-year-olds leaves on Sunday to spend a few days in Nairobi before going to the Maasai tribe lands.
They have raised the £700 each needed to pay for their travel with a variety of fundraising efforts.
The Friends of Thomas Adams School held a ball to raise money, some of the pupils held cake sales, while 17-year-old Jake Evans came up with his own version of a marathon to raise his share.
He travelled the 26 miles in 26 different ways which included running, walking, crawling, roller-skating and even covering a mile on a space hopper.
Now he and his fellow pupils, Ed Water, Ben Hill, Olivia Coles and Abigail Bebb are ready to go to Kenya for the first time. They will be accompanied by teacher, Dave Queen.
He said they would be visiting schools in Nairobi before heading out to the Maasai lands to help make a latrine, a water tank and build a school.
He is not expecting the trip to be a holiday.
"I know there is a wide range of ages there and there's a lot of orphans and students who have lost their parents to Aids, so we will have to be careful how we talk to them and try not to upset them," Mr Queen said.
The students have been told what to expect at the schools they will be visiting.
"I don't think there's any way you can really know how you will react when you get there. I might get very emotional, but you can't tell until you are actually in the situation," Jake said.
"It will be a life-changing experience and when I come back I'm sure my perspective on all sorts of things will have changed."
A second group of students, Hannah Bebb and Jess Powell, who are 17, 18-year-old Craig Anderson and Fae Lester, who is 16, along with teacher Lauren Griffiths, will leave for Kenya on 1 July.