Duke honours Afghanistan soldiers in Shropshire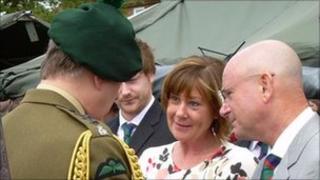 The Duke of York has attended a parade in Shropshire to honour soldiers serving in Afghanistan and remember troops who died.
About 1,200 people watched soldiers from 1st Battalion The Royal Irish Regiment march on to the parade square at Clive Barracks, Ternhill.
Three soldiers from the battalion died in separate incidents in a tour which lasted for more than six months.
The duke presented a medal to soldiers who took part in Operation Herrick 13.
In his role as the regiment's Colonel-in-Chief, he presented them with a campaign medal at the parade.
Battle of Waterloo
He also gave the posthumous Elizabeth Cross award medals to the families of Lance Cpl Stephen McKee, Ranger David Dalzell and Ranger Aaron McCormick.
Ranger McCormick, 22, from Coleraine in County Londonderry, Northern Ireland, was killed in Helmand on 14 November last year.
He had been helping to clear an area of improvised explosive devices during a security patrol in Nad 'Ali when he was killed in an explosion.
Ranger Dalzell, 20, from Bangor in County Down, Northern Ireland, was killed on 4 February as a result of an operational accident while working at Checkpoint Ranger in Nad 'Ali.
L/Cpl McKee, 27, from Banbridge in County Down, Northern Ireland died on 9 March this year.
His vehicle hit an improvised explosive device during an operation to disrupt insurgent activity in the northern Dashte area of Nad 'Ali district.
Captain Jeff Herbert, spokesman for the battalion, said the day would draw a line under Operation Herrick and also mark the Battle of Waterloo, which happened on 18 June 1815.
The battalion took part in the parade to honour those killed at Waterloo, he said.
It will receive the Freedom of Market Drayton next year.
The battalion was welcomed by thousands of people in homecoming parades in the town and Shrewsbury in April.