Stiperstones School considers federation plans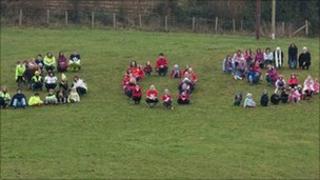 A Shropshire school has said it hopes to avoid closure next year by federating with other local primaries.
Governors at Stiperstones School have agreed initial plans with their counterparts at Hope and Chirbury schools to form a federation.
The proposal would allow the schools to share resources, including a single governing body and head teacher.
The plans are expected to go before Shropshire Council's cabinet meeting on 20 July.
Gerry Hughes, chair of governors at Stiperstones School, said plans were at an early stage, but if successful, the schools could be federated from April 2012.
Nearby Hope primary was one of 22 schools previously identified for closure in 2008, although plans were quickly abandoned.
Mr Hughes said the governors had to demonstrate the federation was both financially viable and would also "improve the standards at the three schools and the achievements of the children".
'Alternative to closure'
Stiperstones was one of nine schools proposed for closure in February.
It has become the third school on the original list to investigate federation as a possible alternative.
Lydbury North and Onibury primaries were granted time to put together detailed plans for federation at a meeting of the council's cabinet on 4 May.
The same meeting approved plans to close Stiperstones primary, pending a second consultation period, which is scheduled to close on 24 June.
Unlike Lydbury North and Onibury, which launched a bid for federation in April, Stiperstones will not have time to complete a public consultation before the meeting on 20 July.
Mr Hughes said he hoped enough detail would be in place to convince cabinet that the plan was worth further investigation.
"At any time during that period Stiperstones School could still close," he added.