Staff concerned over Shropshire school merger plans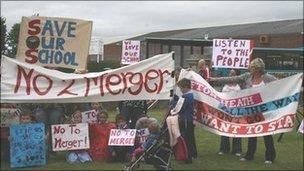 Staff and governors have come up with a 29-point list of concerns over plans to merge a Shropshire primary school with a secondary.
A final decision over Ifton Heath primary in St Martins and Rhyn Park secondary would not be made until the autumn, Shropshire Council said.
Its cabinet will make a final decision on four proposed closures on Wednesday.
Ifton Heath head Nicola Bradley said a proposal in which its entrance would be "hidden away" was totally unacceptable.
"One of the things parents have been most anxious about is the mingling of different ages," she said.
Last February, eight primary schools and one secondary were told they faced closure.
But three earmarked for closure have been recommended for a reprieve, as plans have been put forward to save Lydbury North, Onny and Stiperstones schools.
Last month, parents and pupils from Ifton Heath primary staged a protest march against the proposals to merge it with Rhyn Park secondary.
In a statement, Shropshire Council said it was working closely with all of the schools concerned and was discussing "any points that they had raised with them directly".
It added if cabinet on Wednesday agreed "to proceed to the next stage on this proposal to create an all-through school for St Martins, the final decision would not be made until the autumn".
The council said that before this decision was made there would be a statutory consultation period and it would continue to work with the schools and the community to develop the design study.
Related Internet Links
The BBC is not responsible for the content of external sites.