West Mercia Chief Constable says farewell to Shrewsbury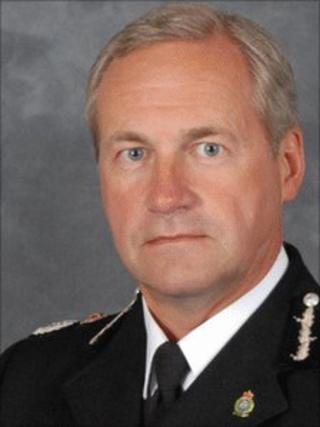 The Chief Constable of West Mercia Police, Paul West, has been pounding the beat in Shrewsbury for the last time.
Mr West has been in post for eight years and retires at the end of July after 32 years as a police officer.
During his time as chief constable he has regularly spent time on patrol in all the force's divisions meeting staff and the public.
He will be replaced by his deputy, David Shaw.
As he paid his farewell visit to the county town, Mr West said he would miss the human side of policing.
"The uniform gives you the authority to go to places other people can't go and to initiate conversations possibly other people may not be able to do. It's that personal interaction... I think on that human level I'll certainly miss it.
"I'll certainly miss the people that I've worked with. I still intend to retain an interest in policing and I'm hoping to work internationally to further some of the good things that we've achieved in this country," he said.
Best in the country
Mr West said he felt he was leaving West Mercia Police as a stronger more effective organisation than it was when he became chief constable in 2003. He credited the quality of the people he worked with for his success.
"I think we can look back collectively with pride on an organisation that is still seen as one of the best forces in the country," he said.
He said the police force nationally was facing big challenges with the proposed abolition of Police Authorities and the introduction of directly elected police and crime commissioners.
He described it as the "most fundamental change to police governance in 50 years".
Another challenge is the intended introduction of the National Crime Agency.
"I'd see this as a very positive thing, but it's still a bit unclear as to what it's complete terms of reference will be.
"We then have the whole financial challenge and if you add all that together, it's a period of unprecedented change at all levels," he said.
'Concert violinist'
Mr West is a keen musician and said he intended to spend more time playing his violin. He is a member of a string quartet and said he wanted to play in an orchestra again.
He said if he had not been a police officer he would have loved to be a concert violinist and maybe even have played in the Proms.
"I think even though I've enjoyed my police career hugely and been a chief constable, I think I might have traded it for that.
"That would have been great, but I suspect I'd never quite get to that standard. I intend to stay in policing, probably in short term projects working abroad," he said.