Impetigo outbreak halts rugby club's matches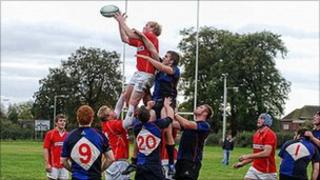 All matches at a Shropshire rugby club have been cancelled after a player's skin infection spread to 12 other players.
Whitchurch Rugby Club Chairman Ron Giddings said the player came back from holiday with a graze which appeared to be infected.
The problem spread throughout the squad over the next couple of weeks.
It is believed the infection is impetigo and Mr Giddings has called off all games until the players are clear.
The Health Protection Agency describes impetigo as "a superficial infection of the outer layers of the skin characterised by blisters that become golden crusted."
It is caused by a bacterial infection and is spread from person to person by contact with the lesions.
He said the players had been to visit their doctors with the symptoms and had been told they were highly contagious.
"It would be reckless to go and play another club and infect them with it," he said.
Mr Giddings said they had not done any training which allowed players to be in contact with each other for 10 days and he hoped the infection "would die a death."
He blames hard ground which has caused grazes to players' elbows and knees allowing in the infection.
He has vowed Whitchurch will not play another match until the infection has gone.
"The last thing we want is to spread it around the Midlands," he said.