Quantum Leap sculpture continues to cost council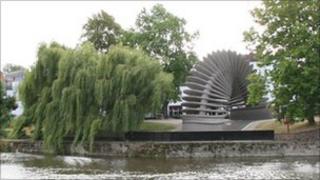 The bill for a Shrewsbury sculpture continues to rise, two years after it was unveiled.
Shropshire Council said it had accepted an independent ruling and would now pay contractors responsible for the Quantum Leap sculpture an additional £410,000.
Including legal fees, the project, with an original budget of £350,000, has now cost more than £1m.
The 12m-high (40ft) sculpture was constructed to mark the 200th anniversary of Charles Darwin's birth.
It was commissioned by the former Shrewsbury and Atcham Borough Council to celebrate one of the town's most famous sons.
Responsibility for the project was taken on by Shropshire Council when it became a unitary authority in April 2009.
In summer 2009, Quantum Leap's 31 stone "ribs", each weighing three tonnes, had to be realigned to complete the arch.
Shropshire Council had disputed responsibility for the costs incurred during this time and agreed to take the matter to an independent adjudicator.
The adjudicator, who made the ruling in July, said the delays and additional costs were due to an "inadequate design specification" and that Shrewsbury and Atcham Borough Council was liable.
'Complex build'
Councillor Steve Charmley, cabinet member for health and wellbeing, said: "We are extremely disappointed by the adjudicator's decision, especially as the design specification was developed prior to Shropshire Council coming into being.
"This was an extremely complex build and at the time when the problems occurred, we couldn't leave the structure as it was.
"Therefore, we were left with no choice but to see the project through to completion and correct the problem."
Mr Charmley said the additional costs would be met by a one-off payment from the council's capital budget.
He added that the council would be considering its options regarding "further actions to recover monies from other related parties".