New Shrewsbury fire control room unveiled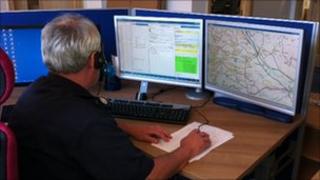 Shropshire Fire and Rescue Service has unveiled a new control room in Shrewsbury.
It is part of a £2m project to update equipment and link up fire authorities in Shropshire, Herefordshire and Worcestershire.
The project will see control rooms in Shrewsbury and Worcester sharing operations during busy periods.
The upgrade follows the scrapping of the national Firecontrol scheme in December 2010.
Nine regional centres were expected to replace the current network of 46 local control rooms.
Shropshire's Chief Fire Officer Paul Raymond said the new equipment was "not even imaginable" when the last system was bought almost 15 years ago.
"It's a world away from the very old system we had, which was installed in the mid-1990s," he said.
"It uses mapping, rather than looking at just addresses on a database.
"It's much quicker and we can deliver a better service."
False 999 calls
The precise location of an incident, including a detailed map, is identified and then sent to the nearest fire appliance, even if it is on the move.
The information is then relayed to crews through an on-board Global Positioning System (GPS).
The new technology has been operational for a week and Mr Raymond said staff had already noticed a significant improvement.
Control room operator Steve Jones said the new equipment could also help to deal with false 999 calls.
A project to install the same equipment in Worcester is expected to start in the next few weeks, with the link completed by spring 2012.
The new partnership will allow 999 calls to be dealt with by either Worcester or Shrewsbury control room, which would then mobilise the nearest fire appliance.
Mr Raymond said the partnership would give the two fire services resilience during large-scale incidents, such as flooding.