Shrewsbury Museum and Art Gallery gets £100K 'boost'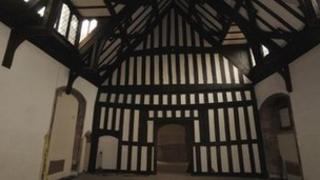 The Shrewsbury Museum and Art Gallery, that is due to open in 2013, has been given £100,000 from The Walker Trust.
The money will be spent on learning and education activities at the £10m gallery, run by Shropshire Council.
Councillor Andrew Bannerman described the grant as a "big boost".
Friends of Shrewsbury's Borough Museums treasurer Trevor Wilson said: "Education is one of the main functions of the museum and it's one that will be rather more possible with more money."
He added: "It is very good news, any support the museum can get is welcome."
Mr Wilson said the group has raised around £50,000 towards the museum in recent years.
'Big boost'
The Walker Trust offers grants to Shropshire organisations and individuals in the areas of health and disability and education and training.
A spokesperson said: "We are delighted to support the education programme that will focus on the understanding of Shropshire's historic collections and cultural assets."
Shrewsbury's Museum and Art Gallery is being moved from Rowley's House in Barker Street to the town's old Music Hall and will open to the public in the spring of 2013.
Mr Bannerman said: "This a big boost for the building, which has been under wraps for quite a while, we look forward eagerly to seeing the results of this grant."