Polish PCSO to help communication in North Shropshire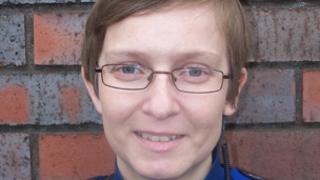 A Polish Community Support Officer (PCSO) has been recruited in North Shropshire to improve communication with Eastern European residents.
Daria Kot came to Shropshire from Poland five-and-a-half years ago.
She is now working as a PCSO in Wem and believes she can be "a specific bridge between British people and Polish people".
PC Dave Carpenter from West Mercia Police said he believed the new appointment would be of mutual benefit.
He said there were a lot of people from Poland living and working in Market Drayton and Shrewsbury and North Shropshire.
"We're interacting with the Polish community," he said.
"The extra dimension of having somebody who speaks the language and is a native of Poland we believe will give us that extra edge."
Mrs Kot said she came to Shropshire with her husband and two children because she was unable to find a "proper job" after finishing university.
She had been a case worker in the collision records department of West Mercia Police.
"I was sitting behind the desk doing the paper work. It was a little bit boring and I could not use my bi-lingual skills. I wanted to be more helpful to West Mercia. That's why I decided to try to be a PCSO," she said.
She hopes to be able to explain the differences in policing methods in Poland and the UK. The biggest being that Polish police are routinely armed.
"What I've noticed is that the British police investigate first and later they decide to arrest someone. In Poland it works opposite. They first arrest the person and later investigate the case," she said.