Food bank opens in Oswestry ahead of Christmas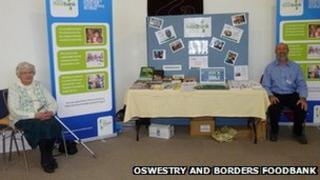 Organisers of a food bank in north Shropshire have achieved their aim of getting up and running before Christmas.
Oswestry and Borders Foodbank has officially started distributing emergency supplies to people struggling to buy food.
Phil Simpson, chair of the trustees, said: "We wanted to try and be open in time for Christmas because we're aware that that's a hard time for many many families."
Mr Simpson explained that they worked with "frontline" agencies such as Citizens Advice Bureaux and social services "who are the ones that may have the first contact with someone in need".
Faith 'unimportant'
The agencies can give vouchers to people which can then be exchanged for three days' worth of food.
"The need just seems to be a growing social situation in the country, where everyone's being squeezed, whether it's losing your job, or just the general cuts, or just the rising cost of living," Mr Simpson said.
The food is donated by churches, schools, individuals and organisations. There are also collections at supermarkets.
The food bank is linked to a network of similar projects organised by a Christian organisation called the Trussell Trust.
Organisers of the Oswestry bank also work under the Churches Together in Oswestry and District umbrella group.
"As Christians we want to put faith into action and go out and show God's love in a practical way to people," he said.
"We exist to help people in need regardless of their own particular faith or no faith."