Concrete blocks dropped on road in Shrewsbury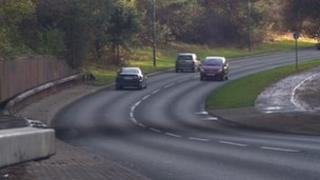 Concrete blocks were dropped from a bridge over a road in Shropshire, police said.
Two motorists reported the incident, which happened shortly after 02:00 GMT, on Sunday.
The blocks were dropped on Robertson Way, which is spanned by a bridge on Monkmoor Road, in Shrewsbury.
Nobody was injured but a police spokesman said there could have been a serious collision. An appeal for information has been launched.
A police spokesman said: "This is obviously an extremely dangerous practice."
He added officers responded to a report of bricks or concrete blocks being thrown from a bridge on Monkmoor Road.
"An area search was conducted and a number of what is believed to be breeze blocks, which may have been taken from a nearby building site, were found smashed on the road," he said.
"Those responsible are likely to face a custodial sentence and we are anxious to receive any information which will help us trace the offenders."