Christmas card history on display at Shropshire museum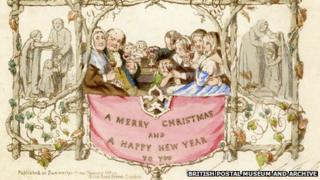 A glimpse of Christmas past has been captured at a Shropshire visitor attraction where people can see what the "first" Christmas card looked like.
In 1843, civil servant Sir Henry Cole commissioned 1,000 Christmas cards and experts say only a small number are known to survive.
One of the originals was on display at Blists Hill Victorian Town for a few hours on Thursday before being replaced with a replica for the rest of December.
Anna Flood, archivist from the British Postal Museum and Archive, said Sir Henry Coles' Christmas cards were the "earliest known surviving Christmas cards in the world".
She explained that the civil servant commissioned them, sent some to friends and then sold the rest.
'No concrete record'
Miss Flood said: "Prior to this point, there was no concrete record of people sending actual Christmas greetings cards to each other, there was no record of a card which makes a specific reference to Christmas
"There were New Year cards from the 18th Century, but no specific Christmas cards."
The archivist said after that "it took about 20 years for sending of Christmas cards to really take-off, in any commercial sense".
"It wasn't really until 1862 when a firm called Charles Goodall and Sons really kick-started the selling of Christmas cards as we know it now," Miss Flood added.