Memorial unveiled for Telford marine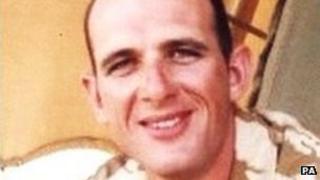 A memorial plaque has been unveiled for a Shropshire marine who was killed by a child suicide bomber in Afghanistan.
Marine Damian Davies, 27, of Telford, died with two colleagues in Helmand province on 12 December 2008.
He was brought up in the Trench and Wrockwardine Wood areas of the town and attended local schools.
The ceremony was marked by the placing of a plaque on a tree within Telford Town Park, which forms part of the Remembrance Memorial.
Marine Davies was part of the Commando Logistic Regiment.
He is survived by his wife Joanne and son Matthew.
The memorial service was attended by the mayor of the borough of Telford & Wrekin, as well as Marine Davies' wife and parents.
'Extraordinary marine'
A council spokesman said Maddie Davies was instrumental in the request to have her son's name form part of the Remembrance Memorial in the park.
Councillor Malcolm Smith, Mayor of the borough, said: "I was honoured to attend the memorial this morning and have the opportunity to say a few words about an extraordinary marine who gave his life for his country and indeed his county.
"I for one am truly grateful for the sacrifice this young marine made as I'm sure everyone within Telford and Wrekin are as well.
"I wish his family all the best for the future and am happy that they have somewhere to come and remember him and all he achieved."