Madeley Court Sports Centre opened for the last time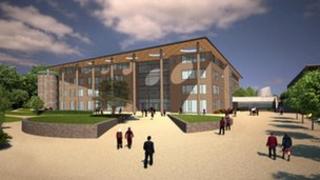 A Shropshire leisure centre has opened for the last time.
Madeley Court Sports Centre, in Telford, will be replaced with new facilities set to open on 9 January.
The new centre will be within the Abraham Darby Sports and Learning Community - a new leisure site attached to a school.
Customers can use neighbouring council leisure services such as those in Oakengates and Wellington in the three-week intervening period.
Telford Snowboard and Ski Centre, which is located on the Madeley Court site, will remain open for business as usual.
The new facilities will include a fitness suite, a 25-metre swimming pool with a moveable height floor, sports hall and an aerobics studio.
Councillor Arnold England, Telford & Wrekin Council cabinet member for leisure and well-being, said: "We apologise for the inconvenience caused by the transition to the new leisure facilities at the Abraham Darby site.
"However we are confident that users will be delighted with the new facilities."