Dickens bicentenary: Shropshire celebrates links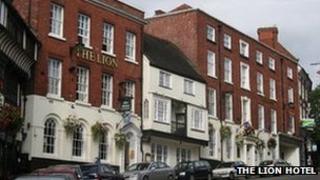 "...we have the strangest little rooms, the ceilings of which I can touch with my hand..."
So said Charles Dickens in a letter to one of his daughters, Katie, in 1858 while staying at the Lion Hotel, in Shrewsbury.
The hotel has long celebrated the various famous guests that have stayed there during its 400 year history including Charles Darwin, Benjamin Disraeli and the violinist Paganini.
But as Dickens' bicentenary on 7 February approaches what does having a connection to the great author mean?
Author John Butterworth, who has written a book about the history of the hotel, said the Dickens connection could be good for business.
'High profile'
He said: "A couple came from the Dickens Society in London to see the place where he stayed.
"They came for two nights and on the second night they were able to stay in the Dickens room. People do come to the hotel just to stay in that room.
"It gives the hotel a high profile - people come because of the historical connection."
In his book 'Four Centuries at The Lion Hotel' he says Dickens stayed at the hotel at least twice: on 12 August 1858, with his friend and illustrator, Hablot K Browne, and on 1838 when he wrote in his journal that on 31 October he and his wife Catherine had travelled through Birmingham and Wolverhampton on his way to The Lion.
He said Dickens was also known to have included Shrewsbury's Music Hall on his reading tour of Britain where he read from A Christmas Carol.
Howard Astbury, proprietor of the Lion Hotel, said guests were often surprised about the Dickens connection.
"We've got his great-great grandson Gerald Dickens coming to perform on the weekend before his bicentenary. We booked him a long time ago when we realised it's an important event."
Trading on the Dickens link is nothing new and Shropshire has long plugged its literary connections.
Tong, near Shifnal, is broadly thought to be the village where Little Nell dies at the end of The Old Curiosity Shop.
John Murfin, who lives in the parish and is a member of the congregation at St Bartholomew's Church, said Dickens visited the area to see his grandmother who was a housekeeper at Tong Castle.
When The Old Curiosity Shop was published many readers began to visit the village church from as far afield as the United States.
According to Mr Murfin, George Bowden, the verger and postmaster in Tong, erected a fake grave and recorded her "death" in the church registry with tourists charged a shilling to see the grave.
According to Shropshire Tourism's website the nearby town of Newport was home to a woman called Elizabeth Parker who became a recluse after being stood-up on her wedding day.
It claims she may have been an inspiration for Miss Havisham in Great Expectations.
The Dickens connection also received a boost in 1984 when a film of A Christmas Carol was shot in Shrewsbury starring George C Scott.
Dr Tony Williams, research fellow at the University of Buckingham and associate editor of The Dickensian journal, said he was not surprised about the number of places promoting their Dickens connection.
He said: "There is an interest in places any famous figure has been to. People are very keen to make use of the connections if they have them.
"He did so much travelling as a reader that there are lots of connections all over the country."
But he urged caution for anyone looking for the inspiration for his various characters.
"There are all sorts of suggestions to the origin of Miss Havisham," he said.
"He was much influenced by a comic actor, Charles Mathews, who used to do a one man show.
"One of his characters was a lady in a wedding dress called Miss Mildew."
He added another possible inspiration was a woman Dickens knew of when he was a boy who was rumoured to have gone mad after being rejected by a suitor.
He said he was not aware of the Shropshire claim on Miss Havisham although he had heard of the theory that Tong was where Little Nell spent her final days
"One always has to be very careful about pointing towards origins," he said.
"He took inspiration from anything that came his way and it was the same with places.
"One of Dickens' friends William Charles Macready said Dickens had a 'clutching eye' - he recorded what he saw for use later so a lot of things could influence a character."