Calls for Shrewsbury and Telford hospitals parking review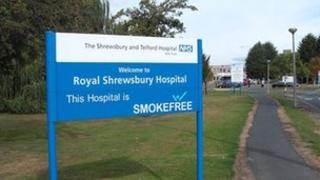 A Telford councillor has called for an urgent review of parking charges at two Shropshire hospitals.
Shrewsbury and Telford Hospital NHS Trust said more than £1.3m had been collected in the last financial year from patient and visitor parking.
About 40% went to independent operator CP Plus, although the trust said it would struggle to manage it themselves for less money.
Telford councillor Mike Ion said the charges were a "tax on the sick".
The figures were released in response to a freedom of information request from Mr Ion.
Trust Chief Executive Adam Cairns said the parking charges represented an "important part of our income".
Supporting services
The trust manages the Royal Shrewsbury Hospital and Telford's Princess Royal Hospital.
Added to the £787,000 earned from patient and visitor parking, the hospitals trust also received more than £280,000 from a separate staff parking scheme.
Mr Cairns said services such as the Hamar cancer centre in Shrewsbury, not funded through the NHS, particularly relied on the parking revenues.
"Our hospital parking charges are a maximum of £2 per day," he said.
"We also have a wide range of concessions to support people on low incomes or people who are on treatment plans that require regular visits."
Mr Ion, a previous prospective parliamentary candidate for Shrewsbury, called for parking charges to be scrapped by 2014.
Mr Cairns said charges were not only useful in supporting services, but also discouraged non-hospital parking.
Telford and Wrekin Council said Mr Ion had raised an important point but the views were his own, rather than the council's.