Hereford Cathedral's new mace to celebrate jubilee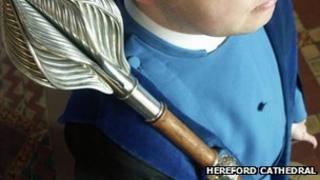 Hereford Cathedral has commissioned a new silver mace to commemorate the Queen's Diamond Jubilee.
It has six sides to represent the six decades of the Queen's reign and the staff is made of Herefordshire oak.
The mace, which will be used at cathedral services and events, will be presented at a special service for the Diamond Jubilee on Sunday.
Hereford diocese covers the county, parts of Shropshire and has 15 parishes in Wales.
The mace was designed by silversmith Wally Gilbert and includes a silver band with a number of engraved symbols including the lions of England, and the arms of Herefordshire, Shropshire and Powys.
During the service on Sunday, it will be dedicated by the Bishop of Hereford.