London 2012: Much Wenlock plans new Penny Brookes plaque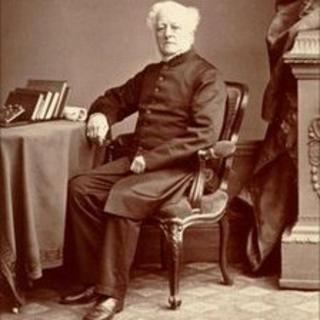 A new marble plaque is to be put up in a Shropshire church celebrating Dr William Penny Brookes' links to the Olympic Games.
Currently there is a plaque in Much Wenlock's Holy Trinity Church but it makes no mention of the Olympics.
The Reverend Stephen Lowe said: "We want something proclaiming that link so that tourists and local people will see his Olympic connection."
Penny Brookes is acknowledged as one of the fathers of the modern Olympics.
He founded the Wenlock Olympian Society in 1850 and started the town's Olympian Games.
Mr Lowe said: "We've got permission from the church authorities and hopefully the new plaque will be up by the middle of April."
He said it would be made out of white and red marble.
The plaque, costing £1,500, will be formally dedicated in May by the Bishop of Hereford.
Penny Brookes was a highly regarded doctor, justice of the peace, botanist and a keen advocate of the benefits of physical education.
Baron Pierre de Coubertin visited him, witnessed the games and subsequently founded the International Olympic Committee (IOC) in 1894.
The Olympic torch relay will pass through Much Wenlock on 30 May.