Telford father raises funds for neonatal unit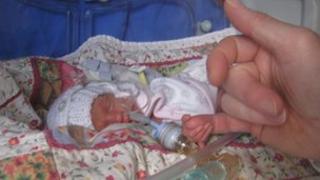 The father of a child who was born at 24 weeks and survived has completed a 19-mile run to raise money for the neonatal unit that helped his family.
Andy Richards, 38, from Telford, Shropshire, took part in a sponsored run on Saturday in aid of the Royal Shrewsbury Hospital neonatal unit.
The unit cared for his daughter Poppy who was born on 7 July 2010 weighing 1lb 7 oz (652g).
Mr Richards has raised £2,000 so far and plans to raise £20,000 by 2013.
The money raised will go towards helping the unit purchase specialist equipment such as ventilators or brain cooling devices to help other babies.
'Such care'
Mr Richards, a system administrator for Capgemini business consultants, completed the run with two friends from work, Paul Connolly and Robin Ward.
They chose to run 19 miles as it was the distance he and his wife Jennifer travelled from their home to the hospital on "countless journeys".
Mrs Richards said that when she went into labour at just 24 weeks it was "horrific" and she "feared the worst."
A complicated pregnancy meant that she was already in the hospital under observation when the contractions came.
Fifty-five minutes later Poppy was born. Her skin was so delicate her parents were unable to hold her for two weeks.
Poppy remained in the hospital's neonatal unit for 100 days.
Mrs Richards said: "We just can't thank the hospital enough. It's because of them that she is with us, they treated her with such care and affection.
"When I went into labour, the paediatricians came round and warned us that they might not resuscitate and if she did survive she might have cerebral palsy, or other health conditions and that she could be blind or deaf, but she doesn't seem to have any ill effects.
"She's just perfect now, she has caught up well and her level of development is exactly where doctors would expect her to be."