Shropshire Council reveal cost of incinerator inquiry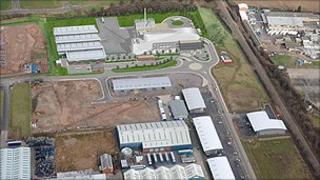 A public inquiry into the building of a waste incinerator has cost more than £900,000, according to Shropshire Council.
In 2010, a planning committee refused an application by Veolia Environmental Services to build an energy-from-waste facility in Battlefield, Shrewsbury.
Last month the waste operator won an appeal against the decision after a five-week public inquiry.
The cost of the inquiry to the taxpayer is almost £825,000.
It includes 90% of Veolia's legal costs, as agreed in a 27-year waste contract signed with the local authority in 2007, worth £850m.
Shropshire Council said the company's legal bill would be paid in instalments of £40,000 a year.
Veolia's legal costs make up about 92% of the overall bill to the taxpayer, with Shropshire Council's own legal defence costing less than £65,000.
Chief Executive Kim Ryley said it was "the cost of democracy" and said the planning committee would have known the terms of the contract before making a decision.
Power 10,000 homes
He said councillors had "listened to the views of those protesting about the proposals and did what they felt was right at the time".
Mr Ryley added: "In financial terms, the appeal cost is small compared to the total cost of the county's waste and recycling service over the length of this contract."
MP for Shrewsbury Daniel Kawczynski defended the planning committee's original decision and said it was important "not to allow itself to be held to ransom by Veolia".
Veolia said work on the £60m energy-from-waste facility at Battlefield in Shrewsbury would begin in early summer.
The company said it would burn up to 90,000 tonnes of waste and generate enough electricity to power 10,000 homes.
Shrewsbury Friends of the Earth, which fought against the appeal, criticised the terms of the waste contract and said much had changed since it was signed five years ago.
Shropshire now recycles more than half of its household waste and sends less to landfill, about 70,000 tonnes.
Shrewsbury Friends of the Earth said despite the expense of the inquiry, taxpayers had actually saved money by delaying the incinerator by a year, due to the terms of the PFI loan agreements underpinning its construction.