Dying Shrewsbury transplant patient Ben Hughes' donor appeal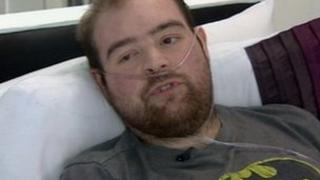 A transplant patient from Shropshire whose body has rejected his new lungs wants to raise awareness of the need for more organ donors before he dies.
Ben Hughes, from Shrewsbury, was born with congenital heart disease and had a heart and lung transplant in 2007.
Last year he began to suffer chronic rejection and has recently been told he may have just days left to live.
Mr Hughes, 28, admitted his life "would have been over a long time ago" if he had not received the organs.
Last year the NHS Blood and Transplant Service said a record 18 million people had registered as organ donors in the UK, but the number still needed to increase with some 10,000 people on a waiting list for transplants at any one time.
'Amazing memories'
Mr Hughes has been writing a blog for a local newspaper as well as telling his story on the internet to highlight the need for donors.
Despite relying on a wheelchair to get around, the 28-year-old has been steadily working through a bucket list which has included visiting a number of football grounds and spending time with friends and family.
He said: "It's been a blast. I've done more in the last two months than I've done in 28 years on this earth.
"I've made some amazing memories for my loved ones to keep."
He has also asked his wife, Ayla, to set up a charity to help others in a similar situation.
Mrs Hughes said: "There's no help out there for people in Ben's situation. People over 21.
"There are charities out there that help children to have special days and there are also charities that help people with cancer."