Shrewsbury organ donation campaigner Ben Hughes dies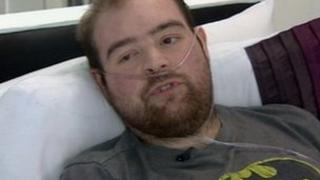 A Shropshire man who spent his last months raising awareness of the need for more transplant organs has died.
Ben Hughes, 28, from Shrewsbury was born with congenital heart disease and received a heart and lung transplant in 2007.
Last year his body started to reject the organs and he was told earlier this month that he had just days to live.
Mr Hughes said he had achieved more in the last few months than in the previous 28 years.
Family members announced on his Facebook webpage that Mr Hughes had fallen "asleep forever" on Sunday.
Almost 200 comments have been posted online by friends and others who had followed Mr Hughes's progress as he worked his way through a bucket list of experiences he wanted to complete before he died.
The list included visits to football games, a trip on the London Eye and spending time with family and friends.
Speaking earlier this month, Mr Hughes said he owed the last few years of his life to organ transplants and urged people to register as donors.