Hospital staff to tape violence in Shrewsbury and Telford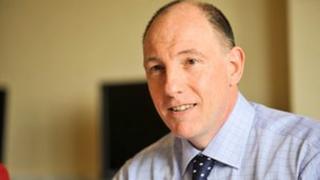 Security staff at two hospitals in Shropshire are to wear video equipment in a bid to clamp down on violence.
From next month security teams at The Princess Royal Hospital, Telford, and the Royal Shrewsbury Hospital will start wearing Body Worn Video.
The hospitals reported 469 incidents of violence or aggression in 2010-11, which the trust said was "slightly higher" than other sites in the region.
Trust chief executive Adam Cairns said any incident was "unacceptable".
The security staff will wear the equipment at all times, but it will only be switched on to record incidents "which are moving in the wrong direction," Mr Cairns said.
'Very firm action'
"We think it's unacceptable that our staff, who I think do a fantastic job often in difficult circumstances, should find themselves either actually harmed or threatened with violence," he said.
"And we need to do something to support those staff."
He said the recordings could be used for evidence.
Other hospitals in the UK are already using similar video equipment.
The latest violence figures for Shrewsbury and Telford Hospital NHS Trust are down from the previous total of 546 incidents, recorded in 2009-10.
However, the number is nearly double the 258 incidents reported in 2007-08.
Mr Cairns said the higher figures were partly because staff were encouraged to report incidents, while the trust took "very firm action" against offenders.
The trust added it had been working with the police and Crown Prosecution Service to improve security at both hospital sites.