Mark Hodnett 'probably drowned' in River Severn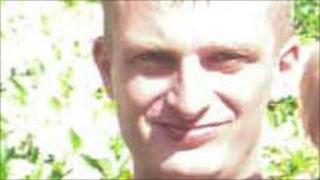 An inquest has recorded a narrative verdict on the death of a Shropshire man, whose body was recovered from the River Severn last year.
Mark Hodnett, 27, of Grange Road, Shrewsbury, was found by Kingsland Bridge in the town on 18 August.
He had gone missing after leaving the C21 nightclub at about 01:00 BST on 13 August.
Coroner John Ellery said Mr Hodnett had probably drowned after entering the river in unknown circumstances.
Mr Ellery also said there was no evidence that he had been assaulted.
The inquest, sitting in Wem, heard Mr Hodnett had 181mg of alcohol per 100ml of blood, more than twice the legal driving limit.
However, Home Office pathologist Dr Kenneth Shorrock said Mr Hodnett was probably "not unpleasantly drunk" and the level of alcohol meant he was unlikely to be out of control.
Dr Shorrock told the court he could not definitively conclude drowning was the cause of death, although it was a "distinct probability".
CCTV cameras
The inquest heard Mr Hodnett had earlier joined two friends for a night out.
One of them, Liam Scadding, said Mr Hodnett had last been seen walking across the English Bridge.
Several CCTV cameras also recorded him as he made his way through town.
Temporary security staff, hired during the Shrewsbury Flower Show, also saw him as he walked through the Quarry park and over Porthill Bridge.
The coroners court was told that other members of the show's security team heard splashing and saw a man floundering in the river at about 04:00 BST.
One man went to get a life buoy, but, by the time he had returned, Mr Hodnett had disappeared.
The inquest heard some of Mr Hodnett's clothes, including his shirt, had been found folded up on the opposite bank of the river, above the Pengwern Boat Club.
Mr Ellery said he had been working with West Mercia Police and the town's Street Pastors to raise awareness of river safety.