Ironbridge Power Station plans switch to wood pellet fuel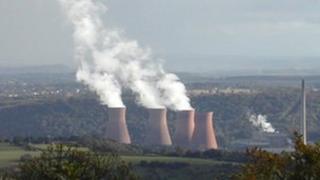 A Shropshire coal-fired power station could change fuel sources, under plans put forward by owners E.On.
Ironbridge Power Station, which generates up to 1,000MW of electricity, is planning to convert to use wood pellets as its main fuel.
E.On has applied for permission to build a football pitch sized store on site for the pellets, which would be sourced principally from North America.
Due to be decommissioned in 2015, it currently burns coal from Russia.
The owners said the change would "facilitate a significant reduction in carbon emissions".
The company added that the fuel would be "subject to strict controls to ensure this material is only sourced from accredited sustainably managed woodlands".
Cocoa husks
However, the plans have attracted criticism from both Shrewsbury Friends of the Earth and the Biofuelwatch group.
Biofuelwatch said burning wood pellet would emit up to 50% more carbon dioxide than coal and that it would take "decades or even centuries for that carbon to be absorbed by new trees".
E.On said the power station already burned cocoa husks and that future emissions would continue to be subject to strict controls by the Environment Agency.
While the change in fuel source is not subject to local council approval, Shropshire Council's central planning committee is expected to rule on the new pellet store on 5 April.