Marches Meres and Mosses given £973,000 lottery grant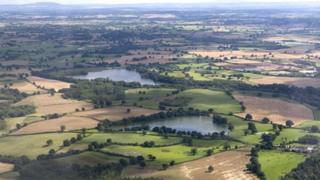 A wetlands area which crosses the Shropshire and Cheshire border has been awarded £973,000 of lottery money.
The Marches Meres and Mosses nature reserve will use part of the money to create new wildlife trails.
Project Officer Angela Jones said: "It will help people discover [the areas] history, traditions and wildlife."
The reserve covers 40,153 hectares (99,220 acres) from Ellesmere in north Shropshire to nearly as far as Crewe in south Cheshire.
The bid for the funding was led by Shropshire Wildlife Trust which said the Meres and Mosses nature reserve was one of the county's "best-kept secrets".
The trust said the money would be used to restore the reserves and help farmers create "wildlife oases".
Carnivorous plants
A spokesman said the scheme would also work with communities to deliver local landscape projects.
The Marches Meres and Mosses nature reserve was recently awarded £500,000 when it was named a Nature Improvement Area as part of a £7.5m government scheme.
The landscape was formed about 15,000 years ago at the end of the last ice age when glaciers retreated, leaving shallow meres and peatland mosses.
The peat bogs are currently home to rare dragonflies, carnivorous plants and Britain's biggest spider, the raft spider.
The five-year project also involves Shropshire Council, Natural England, the Environment Agency, Butterfly Conservation, the Community Council of Shropshire, Harper Adams University College, Cheshire Wildlife Trust and British Waterways.