Arson attacks: More cars damaged in Hadley and Leegomery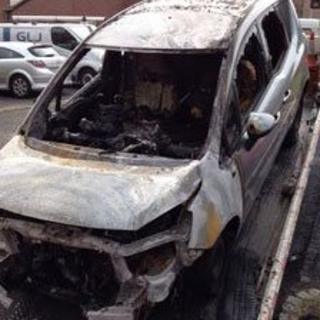 Six cars have been damaged in arson attacks in Telford, just over a week after a spate of similar incidents.
Fires crews and police were called to the Hadley and Leegomery areas just before 04:00 BST. One car was completely destroyed in the attacks.
One car has been set alight twice, but Shropshire investigation officer Dave Bishton said the attacks, some on cars in driveways, appeared to be "random".
Six people were bailed over car arson attacks in the area last week.
A man in his 20s and five teenagers were arrested and bailed on suspicion of conspiracy to commit arson after the previous incidents.
Property fears
Mr Bishton said he was called out to the latest incidents in Crescent Road, Hadley, and Acacia Drive and Hurleybrook Way, in Leegomery.
He said whoever was starting the fires appeared to be setting light to the number plates and using an accelerant.
"I know the fires are either on the front or the rear of the vehicles and externally, but obviously due to possible accelerant use they do quickly involve the majority of the vehicle unfortunately," he said.
"Whoever the perpetrators are they are just moving round the area and picking vehicles at random at the moment."
He said it was of "further concern" to fire crews that some vehicles which were attacked were on driveways which meant flames could reach properties unless fire crews acted quickly.