Seventh arrest after Telford car arson attacks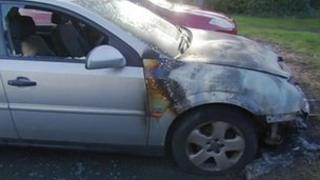 Police investigating a series of arson attacks on cars in Telford have made a seventh arrest.
In the past fortnight, 22 cars have been set alight in the town, more incidents than were reported in the whole of 2011, police said.
Despite the latest arrest, West Mercia Police said they were still hunting for suspects.
Six other people, arrested since the first attack on 27 March, have been released on police bail.
Ch Insp Paul Moxley said he believed the attacks were the work of a group who were setting light to cars "for kicks".
"This is wanton vandalism, pure criminality and we don't know why it is happening," he added.
'My livelihood'
Most of the attacks have so far been in the Hadley and Leegomery areas.
Mahmood Hussain was woken by police last week after his taxi was set alight. Sitting on his drive, the heat from the vehicle cracked a number of windows at his house.
He said: "The house could easily have caught fire and the taxi could have exploded. That was my livelihood."
Tina Webster, whose motability vehicle was targeted by arsonists, said she had parked her replacement courtesy car two miles away at her parents' house.
"I was scared. You never think it's actually going to come to your doorstep," she said.
Ch Insp Moxley said he understood residents' concerns and appealed to them to park their cars away from their homes to minimise the risk of any fire spreading.
Police said they had increased the number of patrols in the area.