Ludlow doctors surgery move opposed by petition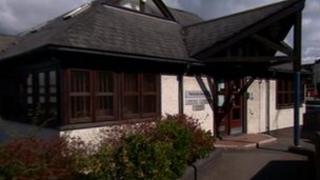 A 1,200 signature petition has been collected against plans to move two GP surgeries out of a Shropshire town to the site of a planned new hospital.
The Save A Ludlow Town Surgery (Salts) campaign group plan to take their petition to 10 Downing Street.
Salts claim some patients will face a half-hour bus ride to the site on the outskirts of Ludlow.
Shropshire County NHS Primary Care Trust said not moving the surgeries might "jeopardize" the hospital scheme.
Work on the new hospital on the Eco Business Park on A49 outside Ludlow is due to start in 2012 and be completed two years later.
'Only option'
Grace Stone, 84, who has polymyalgia and osteoporosis, said using public transport would be a problem for her and others at the town centre complex where she lives.
"Getting on and off buses is not easy for me and it's even worse for many people here who are much worse than I am physically, so we just can't lose our surgery," she said.
Joyce Brand, and her comedian daughter Jo, hope to present the petition to the prime minister before final contracts are signed, which the trust anticipates will happen in June.
"Nobody is going to want to trail a mile and a bit out to the Eco Business Park or stand in the rain in the winter or with small children and a pushchair," she said.
Shropshire County NHS Primary Care Trust said that to retain a surgery in the centre of Ludlow would "undermine the integrated nature of care" it was looking to achieve on the hospital site.
Leigh Griffin, from the trust, said: "It would also greatly increase the cost of the overall scheme and we fear it would jeopardize the Ludlow hospital development."
The trust is working with a developer to fund the hospital and said this was "the only realistic option available" as it did not have other funding sources.
A spokesman said that bringing together the GP surgeries and the hospital was one of the major reasons the scheme was been supported by the Strategic Health Authority.