Shropshire's Cpl Ricky Furgusson set for Jubilee flotilla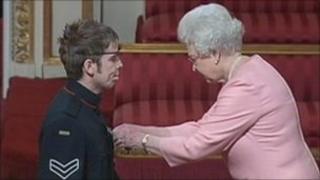 A Shropshire soldier, who lost both legs and an eye in a bomb blast in Afghanistan, has said he is looking forward to meeting the Queen for a second time later this year.
Cpl Ricky Furgusson, from Telford, is set to be involved in the Diamond Jubilee Concert outside Buckingham Palace on 4 June.
But before that, he will join other people with disabilities in forming the crew of one of two narrowboats that will make the 220-mile journey to London using the canal network in order to take part in the Thames Diamond Jubilee Pageant.
Cpl Furgusson said: "I couldn't believe it when I turned up and they said I could go along.
"It's an amazing, once in a lifetime chance.
"It shows the outside world that just because you're injured life isn't over."
Severely injured
Cpl Furgusson, of the 4th Battalion The Rifles, met the Queen when he was given the Military Cross in 2010 for helping soldiers wounded by improvised explosive devices (IED) on four separate occasions.
He was himself severely injured by an IED, losing both legs, his left eye, fingers from both hands and suffered facial scars.
The soldier still insists that he should not have been given the medal as "an individual".
"We should have won the Military Cross as a section because I didn't do anything on my own. We did it as a team," he added.
Cpl Furgusson has not yet seen the boat he will help crew as part of the 1,000-strong flotilla that will journey down river from Putney to Tower Bridge on 3 June.
The following day he will get even closer to the Queen again at the celebratory concert outside Buckingham Palace which will feature the likes of Tom Jones, Elton John and Jessie J.
"I'll try and mingle with them," he said.
"It'll be amazing to meet [the Queen] for the second time.
"I've met Camilla and Prince Charles before.
"Unfortunately when I met the Queen there was 91 people getting a medal that day.
"You're literally in, medal, shake hands, thank you and out.
"Hopefully this time I'll get more than a 30-second chat and we can have a good catch up."