Grand National: Family of Neptune Collonges owner divided over race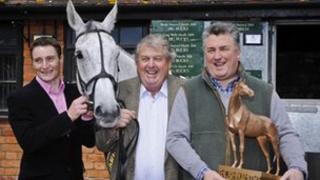 The owner of Grand National-winning horse Neptune Collonges has said he had doubts over whether to enter.
Two horses were put down after falling during the race, including Cheltenham Gold Cup winner Synchronised.
John Hales, from Telford in Shropshire, said he had lost three horses in National Hunt racing, including One Man at Aintree 14 years ago.
"My family still haven't got over it. We were split over me entering Neptune," Mr Hales said.
He added that his daughter could not face watching Saturday's race and chose to go show jumping in south Wales instead.
"I had no idea he was going on to win. I was just pleased after he'd jumped the last fence that I'm taking him home safe and well."
'Risk factor'
The Grand National has come in for renewed criticism over safety after the deaths of Synchronised and According to Pete.
Ten horses have been put down after the annual race at Aintree in the past 12 years, according to the British Horseracing Authority.
Peter Nelson, owner of According to Pete, has said he will not enter horses in the race again.
Mr Hales said several of the jumps, including Becher's Brook, had been made safer over recent years and urged organisers to make further improvements.
He added: "But whatever they do, there'll always be that risk factor. You can't take that away.
"I've lost three horses and it's a tragedy when it happens.
"You have to somehow decide whether you want to be part of and try to win the Grand National, and accept the risks that go with it."
Mr Hales said Neptune Collonges would now retire.