Cosford railway station reopening delayed again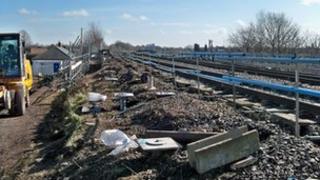 A row has erupted over the reopening of a Shropshire railway station which has been delayed for a second time.
Cosford station was due to reopen last month, and then again on Monday, after a £2.1m project to rebuild it.
Network Rail said sufficient work had been done to reopen it on Monday but London Midland was not prepared to.
But the rail operator said the station "still lacks some very basic customer facilities", including a shelter and information screens.
The project started last October and the station was originally due to reopen on 12 March.
But Network Rail said at the time it had discovered a number of concrete blocks which workers were not aware of.
A shuttle-bus has been operating between Cosford and Albrighton, according to Network Rail's website.
Network Rail said on Tuesday: "While there is still some work to do to complete Cosford station, we believe we have done sufficient work to enable the station to reopen safely for passenger use.
"However, we understand that London Midland is not prepared to reopen the station until all the work is completed."
In a statement, London Midland said "We are not prepared to take Cosford station back into service as it still lacks some very basic customer facilities, such as a waiting shelter and customer information screens.
"We are however, working closely with Network Rail to agree a reopening date as soon as possible.
"In the meantime, we are keeping our customers informed of the situation and continuing with the bus replacement services from the station."