Replica Trevithick loco moved from Telford Central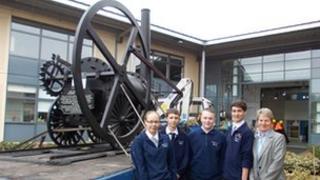 A replica of the world's first locomotive has been moved from a Shropshire railway station where a £1m revamp has begun.
London Midland said the model was making way for new passenger seating areas at Telford Central station.
The replica of the Richard Trevithick-designed locomotive, built in 1803 near Ironbridge, has been taken to Hadley Learning Community School.
The full-scale model has been at the station for more than 25 years.
'Wonderful achievement'
The replica will be used as a "visual prompt" to discuss the local industry and how that has developed over the last 200 years, the Hadley Learning Community said.
Director of engineering at the school site, Jeff Williams said: "The Trevithick will be sited in our Engineering Gallery, a space to exhibit some large items and use as a teaching space, which is surrounded by glass.
"So it will be a constant reminder of the wonderful achievement and the importance of Ironbridge as a World Heritage Site."
A new waiting room and shelter will be installed on Platform 2 at the station, while on Platform 1 the canopy will be extended.
Other measures include refurbishing the booking hall, waiting areas and toilets.
The work is due to be completed later this year.
The Trevithick locomotive was built by the Coalbrookdale Company, while a plaque on the model states the replica was built by Task Undertakings, a Manpower Services Commission project in Birmingham, London Midland said.