Abraham Darby Royal Patent from 1707 found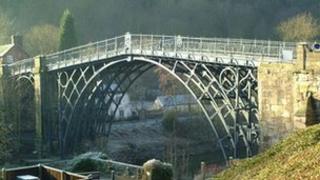 An original Royal Patent granted to industrial pioneer Abraham Darby has been uncovered by a archivist researching a Shropshire firm.
The original patent for the production of cast-iron cooking pots is in an open letter to Mr Darby from Queen Anne.
The 1707 letter gives him sole permission to cast iron cooking pots and other ironware, using sand and a special casting box, for 14 years.
The AGA Cookshop foundry at Coalbrookdale still uses this method.
The letter, written on parchment, was found in the National Archive.
Abraham Darby was born in 1678 and moved to Coalbrookdale in 1708 where he leased and repaired a charcoal-fuelled furnace.
In 1709 he discovered a way to use coke (rather than charcoal) to smelt iron, making the process much cheaper and more productive and paving the way for the industrial revolution.