Newport Sainsbury's supermarket plan approved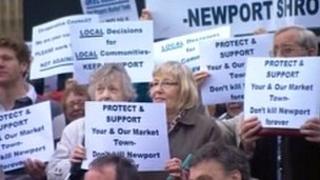 Councillors have approved plans for a Sainsbury's store on a green-field site in Shropshire.
The plan for a Sainsbury's store off Station Road, Newport, are part of the Labour-run Telford & Wrekin Council's wider regeneration scheme for the town.
Members of the public at the meeting shouted "shame" as the majority verdict was confirmed.
The plans attracted more than 450 letters of objection and more than 100 people attended the meeting.
The council assigned two extra rooms at Telford civic offices to increase capacity.
The planning application was submitted by St Modwen Developments to build a store with a restaurant and 530-bay car park on land to the west of Station Road.
'Objective review'
Sainsbury's is required to pay about £2m to fund local amenities as part of the plans.
The original application included plans for a car wash and petrol station, but these elements have since been dropped after consultation with the Environment Agency.
Campaigners from Save Newport said the store would be an eyesore, it would have a negative impact on the existing high street shops and would be built on an area of ecological and historical significance.
David Parker, from Save Newport, said: "We'll be appealing to the Communities Secretary Eric Pickles to call this application in."
"We've already started to build a case which we will be submitting to him and we'll be asking local people and businesses to write to him asking for an objective review into this," he added.
Neither Natural England nor the Environment Agency objected to the current plans.
The developer said the store would create up to 274 full time equivalent posts.
After the meeting, a St Modwen spokesman said it was pleased with the outcome.