Queen to visit Shropshire on Jubilee celebration tour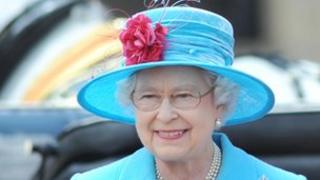 The Queen will visit Shropshire as part of her Diamond Jubilee tour of the UK.
Together with the Duke of Edinburgh, she will attend a special celebration event at RAF Cosford on 12 July.
Organisers hope 20,000 people will attend the free event which includes a picnic and Royal pageant.
More than 5,000 children and a number of voluntary groups will take part in the parade which will have floats and costumes depicting the Queen's 60 years on the throne.
The assistant clerk to Shropshire's Lord Lieutenant Martin Stephens said: "It's an absolute coup for us to get the Queen and the Duke of Edinburgh here.
"We're very lucky to have them both because other nearby places like Staffordshire and Wolverhampton haven't been able to secure a visit."
People who want to go to the event have to register through the website www.shropshirejubilee.co.uk for tickets.