Telford town park's £950,000 visitor centre opens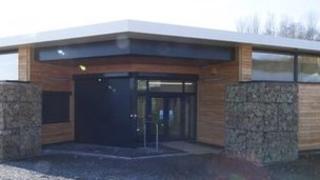 A new £950,000 visitor centre has opened in a town park in Shropshire.
The facility is part of a £250m redevelopment of Telford town centre.
The new building replaces Spout Farm House on the edge of the park, which was demolished in May to make way for the new Southwater development.
Telford & Wrekin Council leader Kuldip Sahota said: "The whole Southwater development is set to transform Telford town centre as we know it."
The council said the new building had been constructed from sustainable materials and was "extremely energy efficient".
It also contains educational facilities for local schools.
The wider Southwater scheme is expected to take up to 20 years to complete and regenerate the area between the town centre and the park.
The project will include retail, residential and leisure units, alongside restaurants and office space.