Queen's Diamond Jubilee: Wounded soldiers crew narrowboats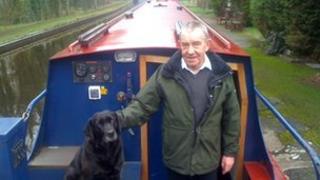 Two narrowboats crewed by wounded soldiers are leaving Shropshire to go to the Thames Diamond Jubilee Pageant.
The Shropshire Lad and Shropshire Lass will be crewed by nine wounded and injured soldiers from the Personnel Recovery Unit based at Copthorne Barracks, Shrewsbury.
The narrow boats are specially-adapted for use by disabled people.
The soldiers will crew part of the 237-mile journey from Lyneal Wharf, North Shropshire to the Thames.
Lt Col Guy Chambers, one of the organisers, said: "For soldiers wounded in action, these types of activity are extremely important in their recovery and to be involved in such a prestigious event only adds to the sense of satisfaction and achievement they will gain."
The narrowboats, provided by the Lyneal Trust, will take over three weeks to reach London before joining the flotilla that will accompany the Royal Barge, the Spirit of Chartwell, down the Thames on 3 June.