New leads on Shropshire robberies after Crimewatch appeal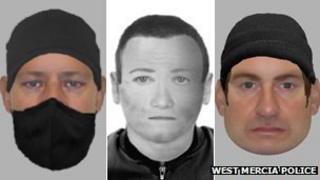 Detectives hunting three men who carried out two violent robberies in Shropshire are following up new leads after an appeal on BBC Crimewatch.
Victoria Ratheram was eight months pregnant when she was threatened at her Wollerton home on 5 April. Her three-year-old son was also in the house.
The men, brandishing machetes and a baseball bat, also attacked a teenage boy and his mother at a nearby address.
West Mercia Police received more than 40 calls and emails after the appeal.
It said the messages contained several sightings of vehicles and names.
Head of Shropshire CID, Det Ch Insp Alan Edwards said: "We are now investigating a few strong lines of inquiry but I would still urge those in the criminal community to come forward and give up the names of those responsible for the burglaries."
All three men are described as being white and about 5ft 10in (1.78m) tall.
Two are believed to be about 40 years old with the third man in his mid-to-late 20s.