Public sector strikes: MoD picket outside Donnington base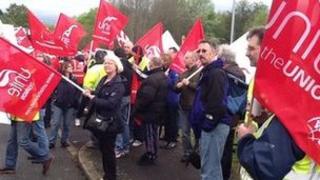 Ministry of Defence (MoD) staff are among public sector workers in Shropshire to have taken part in a UK-wide strike over pension changes.
About 100 MoD workers set up a picket line, waving flags and sounding horns outside the Donnington base.
Unite representative Mike McCartney said changes meant staff "working longer, getting less and paying more".
The government says current pension schemes are unfair and unaffordable because people are living longer.
Hundreds of thousands of public sector workers took part in the 24-hour strike, including civil servants, NHS workers, border force staff and lecturers.
Mr McCartney, the national officer for the Unite union representing the MoD workers, said the government was "not listening" to concerns over pensions.
"We feel there is some room for negotiation, particularly the working age and physicality," he said.
"For instance our firefighters who would be asked to work until they are 68 - who wants a fireman rescuing you at 68 years of age?"
'Guaranteed pension'
He denied that many public service workers had generous conditions and pensions compared to people in the private sector.
"Our average earnings are around about £18,000, some less, and if you think that half of that is £9,000 a year - I'd hardly call that 'gold-plated'."
BBC reporter Ian Perry at the scene said strikers, wearing high-visibility jackets, sounded horns whenever workers crossed the picket line, while some drivers sped up as they entered the base to cross the line.
Meanwhile, about 30 MoD police officers were believed to have also been at the scene, including one photographing strikers, our reporter said.
Mr McCartney added: "We are showing that we are able to take people out [on strike]. In terms of inconveniencing, we are not stopping stores going out to theatres of war."
But Conservative Party chairman Baroness Warsi said the strike action across the UK was "going to benefit no-one".
"Workers are being asked to work a little bit longer and to pay a bit more but they will be guaranteed a pension which is index-linked and inflation proof," she said.