Ludlow hospital plans approved by NHS trust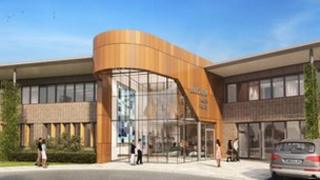 Plans for a new £27m hospital in south Shropshire have been backed by the county's Community Health NHS Trust.
The new site on Ludlow's Eco Business Park off the A49 is due to include a 36-bed hospital as well as two GP surgeries.
The proposals are now expected be reviewed by the Shropshire County Primary Care Trust and Strategic Health Authority before the end of May.
If approved by their boards, building work could start in the summer.
Conservative MP for Ludlow and chairman of the Ludlow Healthcare Forum Philip Dunne described it as a "significant step forward on the long march to delivering 21st Century healthcare to south Shropshire".
Campaigners on both sides have been vocal about the plans.
Eco Park
More than 1,000 people have signed a petition in support of the new facility.
Another petition includes the names of 1,200 people who oppose the move of Ludlow's two GP surgeries out of the town centre.
Shropshire Councillor Martin Taylor-Smith said a number of bus routes had been changed to improve access to the out-of-town Eco Park.
Jo Chambers, Chief Executive of Shropshire Community Health NHS Trust, said the new hospital would offer new services such as chemotherapy, a number of day surgery procedures and a range of outpatient clinics.
Ludlow Hospital League of Friends has also pledged £180,000 to help fund a new centre for end-of-life care.
It would replace the existing Ludlow hospital on Gravel Hill, which includes 40 beds, but offers a narrower range of services and treatments.
Currently many patients in south Shropshire could face a round-trip of more than two-hours for treatments in Shrewsbury or Hereford.
If the plans are given final approval the new hospital and health facility is expected to open by early 2014.