Shelton Hospital memories sought as former asylum shuts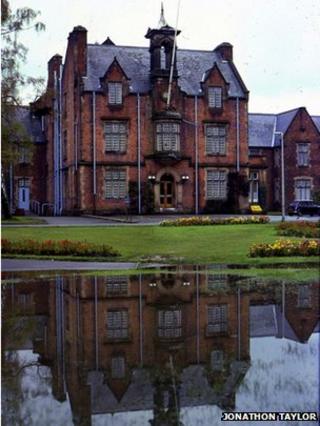 "There was a tailors shop, there was a carpenters - it was a whole community at one time, with a farm as well," said Dan Reeves, a heritage project officer.
He is collecting the unusual history of a Victorian asylum in Shropshire ahead of its scheduled closure later in the year.
Shelton Hospital was custom built and opened in 1845 at Bicton Heath, Shrewsbury.
Over the years it had its own cricket and football sides, a band, a farm supplying food to the hospital and jobs for patients and local people and even a brewery.
The grade II listed building, which has been much adapted over the more than 150 years since it opened, will close as a hospital in September.
Mr Reeves said: "There are a lot of people whose lives this place has touched - the idea of this project is humanise the statistics you always get, to get the human stories that go behind those statistics."
He has already been contacted by people who worked at the hospital and patients who were treated there.
"I had a letter from someone who said they had a great birthday here, but that they also had ECT," he said.
Sports trophy
The project is also collecting objects and memorabilia connected with the hospital.
These include an unusual cup, with a logo saying Bicton Heath County Asylum.
"It's got what looks like a lifebelt on it, but when you look closely it's actually a leather belt, and I've got a feeling it's a restraining belt," Mr Reeves said.
An application form from 1927 asks candidates what sports and instruments they play, showing how important the sports teams and the band were to hospital life.
At its height the hospital was treating 1,000 patients, but now its role will be taken over by a new mental health village that has been built nearby.
The listed red brick buildings and its landscaped grounds will be sold off after the hospital is closed.