Man injured when felling trees in Wrekin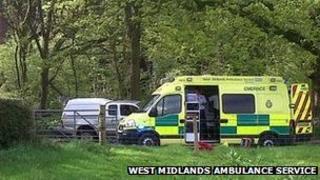 A man suffered a serious leg injury when he was hit by a falling tree.
The man was reported to have been felling trees in the Wrekin, near Rushton, Shropshire, when one landed on him, the ambulance service said.
"The ambulance crew had to navigate through the densely-wooded area and over the rough terrain on foot to reach the patient," a spokeswoman said.
The man in his 40s, who was in a lot of pain, was treated at the scene before being airlifted to hospital.