Whitchurch Civic Centre £1.68m refurbishment plans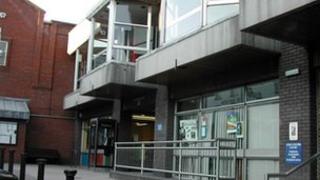 Plans for a £1.68m revamp of a community and civic centre have been backed by Shropshire Council.
The project includes a facelift for the outside of Whitchurch Civic Centre as well as internal alterations and technical upgrades.
The building contains a community hall, market hall, town library and the offices of the town council.
The first phase of the scheme still requires approval by the cabinet group, which is due to meet next week.
The council said the work, part-funded by the Market Towns Revitalisation Grant, was due to start in the autumn and would be completed in stages.
Whitchurch Mayor Peggy Mullock said the redevelopment would create a "multi-use community facility fit for the 21st Century".
Councillor Mike Owen added that the project was intended to support the regeneration of the town centre.