Diamond Jubilee Thames Pageant was 'hard work'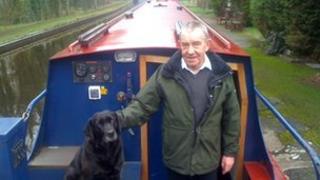 Taking part in the Diamond Jubilee Thames Pageant was "hard work", according to a man aboard one of two narrowboats representing Shropshire.
The Shropshire Lass and The Shropshire Lad, owned by the Lyneal Trust, were among the 1,000-strong flotilla that sailed past the Queen on Sunday.
The boats were crewed by disabled civilians and nine wounded soldiers respectively.
Lyneal Trust chairman Chris Symes said the crowds kept them going in the rain.
Mr Symes said it was a long day because they did not get docked until 21:45 (BST) having travelled past the Queen's barge at about 16:50 (BST).
He said: "When we finally got into West India Dock... we were very pleased to get inside the boat and out of the cold and wind and rain.
"It was hard work. What kept us going was there were so many people. It was very worthwhile.
"We did get a wave from the Queen. We felt very pleased as we went past that we were recognised."
See all the latest Diamond Jubilee news and features at bbc.co.uk/diamondjubilee.