London 2012: Shrewsbury hospital sister to be Olympic judge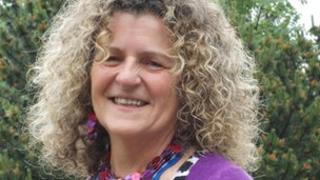 A sister at a Shropshire hospital has been selected to judge field events at the London 2012 Olympics.
Cathy Briggs works in the Acute Medical Unit (AMU) at the Royal Shrewsbury Hospital, and is also Staff Side Chair for the Royal College of Nursing.
Mrs Briggs will be one of around 60 National Technical Officials for the eight field events, but does not know yet which she will be judging.
She will be at the Olympic Stadium from 31 July until 13 August.
"When I found out, it was absolutely amazing and I didn't believe it at first," Mrs Briggs said.
"All of the British judges are qualified to do any of the track events, which is unusual as other countries usually specialise."
Test event success
The field events include the long jump, triple jump, high jump, pole vault, javelin, hammer, shot and discus.
Mrs Briggs was told she was on the provisional list in April 2011, but had to keep quiet.
She then took part in a test event last month, before finding out she had made the list of officials.
Mrs Briggs began training to be a judge in 1996 when two of her sons joined Oswestry Olympians and she watched at the sessions.
When the group joined the National Young Athletes' League, she was asked if she would consider training as an official.
She qualified as a judge in track and field and and is now a level three national official for field events and a county official for track events.
Mrs Briggs said: "We had to be at a certain level, a high-grade official [to judge at the Olympics], and we got reported on national and international meetings as part of an assessment process.
"They had to check whether we are still doing the job properly and that we are physically fit. UK Athletics considered all applicants who applied."
'Like a dream'
Mrs Briggs has judged at the International Paralympic Committee World Championships in New Zealand, the trials for the Beijing Olympics, and the World Indoor Trials in Sheffield.
She is also a judge for Shropshire Athletics, Shropshire School Athletics Association, the English Schools Athletic Association and the North West Regional School Athletics.
Mrs Briggs said: "It's been like a dream to know I'll be judging at the Games. My family are amazed and impressed with it and my colleagues are asking me about it quite a bit."
"I've done televised events before but never with 80,000 people there in the stadium like there will be at the Olympics."